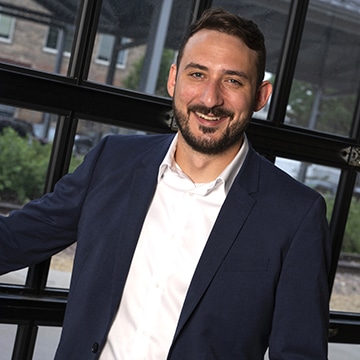 Andre Balka
Human Resource Manager
---
Andre Balka is the Human Resources Manager and has worked with MPOWR and Supply Core since 2016. He is a believer in the strength of teams and power of open and candid communication. Andre's favorite part of HR is being able to watch others harness their talents and grow personally and professionally. Andre has 10 years of experience working in a variety of disciplines within HR, ranging from recruitment, total rewards, training and development, and organizational design and structure.
Andre holds a Bachelor's Degree in History from the University of Illinois as well as a Certified Professional license through the Society for Human Resource Management (SHRM). Andre was a recent awardee of the Rockford Chamber of Commerce 40 under 40 award in 2019.
Midwestern cred: Born in Kokomo, IN, Andre knows that even the Beach Boys wished they were from the Midwest.

Andre's MPOWR superlative:
Most likely to still be skateboarding when he's 80 years old.