What is a Coworking Space?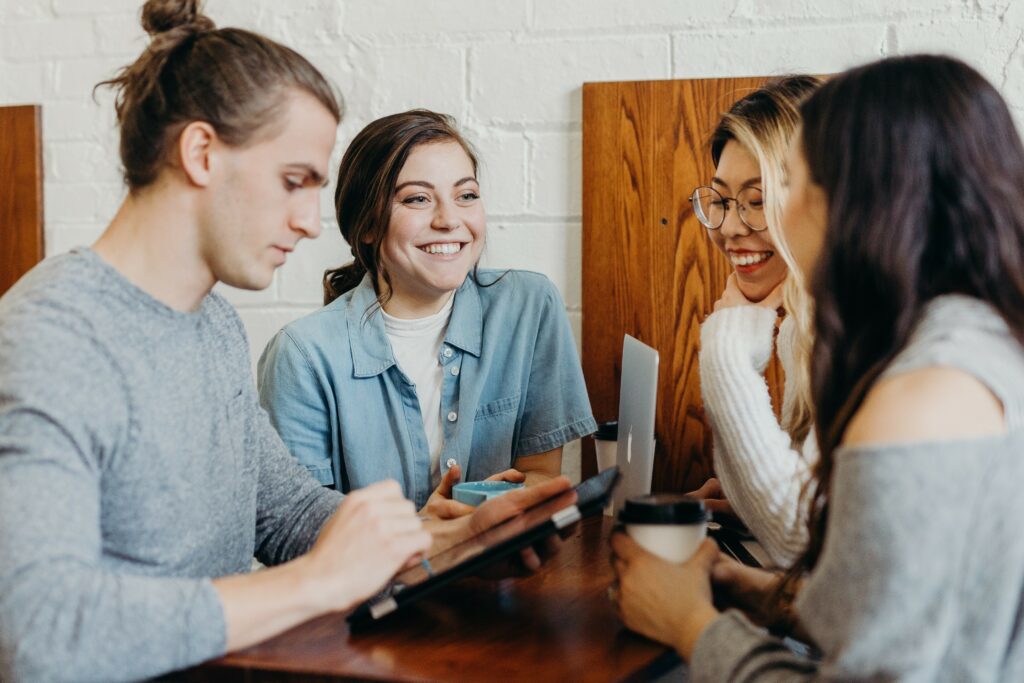 Leasing office space used to mean hunting down an available unit, signing a lengthy commercial lease, and shelling out big bucks. And if you couldn't find the right square footage or the monthly rent didn't fit your budget, you were relegated to working from your kitchen table or the coffee shop down the street with the spotty WIFI.
But freelancers, entrepreneurs, and remote workers have discovered a third place to work: coworking centers. Now more than ever, like-minded small business owners are setting up shop in these flexible office spaces. Here, they can make connections, collaborate with peers, and build their networks while growing their business—without the hefty price tag and long-term commitment.
What is Coworking?
While the first known coworking spaces date back to 1995, the concept gained recognition in the early 2000s. Today, research company Statista reports that hundreds of thousands of people share 6,000+ coworking spaces across the U.S., and that number is climbing.
Coworking spaces are known for being cost-effective, adaptable work environments where you can rent floating desks, shared workspaces, or small private offices at an affordable rate. According to the U.S. Chamber of Commerce, average prices range from $200 per month on the low end to $700 on the high end (depending on location), and in many cases, the rental agreement is month-to-month.
Coworking office spaces are great for fully remote employees and freelancers, and they're also a boon to employers who want face time with their teams. In an article published in The Atlantic, Dr. Tracy Hadden Loh wrote, "Gallup's polling and many other surveys and studies have found that a majority of workers prefer a hybrid model with some in-person work. The bottom line is that workers want to get out of their homes, but they absolutely do not want to return to the old office."
Using "third spaces" is good for cities like Rockford, too. Loh, who is a Fellow at Brookings Metro in Washington D.C., went on to add, "Imagine office buildings and their districts rethought, rearranged, and redeployed in a way that is not just functional, but also delightful, educational, accommodating, and accessible."
How to Choose a Coworking Space
Even though there's no long-term lease attached, it makes sense to choose a coworking space that reflects the kind of experience you want to have when you're in "work mode."
Here are a few things to keep in mind:
Environment. Some coworking offices are modern, and some haven't been updated since *NSYNC recorded "Bye Bye Bye." That could be good or bad, depending on your taste. And what about the view? Do you do your best work in a small, cozy space without distractions, or would you prefer big windows that let in tons of natural light?
Setup. Check availability on the type of space you need. If you need lots of privacy, but a floating desk is the only space available, is that okay? Think about parking, too, because some coworking centers offer covered spaces while others rely on lots and street parking.
Perks. Find out what the rental fee includes. Are you getting just a desk and internet, or can you use the building's mailing address? Are there networking events? It makes sense to figure out what amenities you want.
Take a tour. Before you sign up, consider visiting the space and walking around. Does it pass the "vibe check?" Could you see yourself working there? Some coworking spaces are designed to spark creativity and innovation, while others are focused solely on utility.
Community. Is it every person for themselves here, or will you be part of a community? Will there be networking opportunities? If you thrive in a collaborative environment, choose a coworking space that intentionally fosters relationships among members. If you prefer to go it alone, a quieter building with a more independent culture might be a better fit.
The MPOWR Coworking + Collaboration Center is Now Open
Rockford area freelancers, entrepreneurs, and remote workers can now call the iconic SupplyCore building their home away from home. Featuring spectacular fifth-story views of the Rock River, the 815's newest coworking center offers a variety of options for membership. Whether you need to rent a workspace for the day or you're looking for a private office, MPOWR's Coworking + Collaboration Center has loads of rentable office spaces available.
Pricing ranges from $25 per day for a floating desk with lightning-fast internet to $350 per month for a private office, and there are various levels of membership in between. If your budget is a little bigger or you need space for two people, larger single and double offices are also available on a monthly basis. Discounts are available for monthly packages of 3 months or more.
Monthly memberships include access to a shared printer, use of the mailing address, credits to use toward conference and collaboration rooms, and 24/7 access. But the community feel is what's truly remarkable about MPOWR's Coworking + Collaboration Center. Members can chat over coffee in the shared kitchen, gain access to networking and mentoring events, and work toward their goals in a productive, growth-oriented environment.
If you're interested in becoming part of our growing community, check out our membership options or schedule a tour.