Your 101 Guide to a Strategy Execution Culture:
How to Achieve Every Organizational Goal (Especially the Big Ones)
Imagine a world where every employee's day-to-day tasks are focused on strategic actions that contribute to achieving your overall organizational goal.
Organizations that focus on a Strategy Execution Culture see higher employee engagement and outperform competition.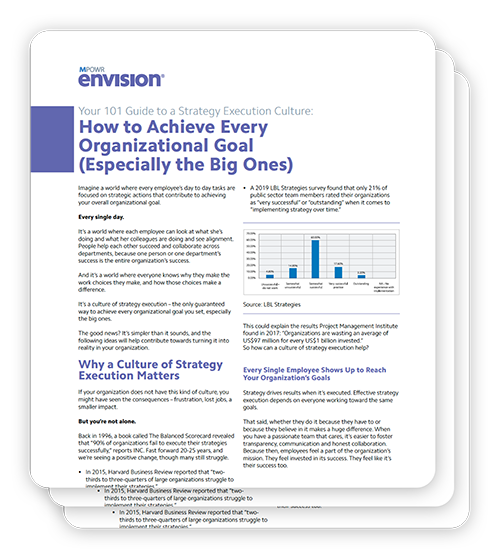 A Guide into Strategy Execution Culture and Why It Matters.
Topics Covered Include:
Why a Culture of Strategy Execution Matters
The Five pillars of Strategy Execution
Finding success with the right tools
Improving communication, transparency, and alignment
Download the guide and receive a framework for creating an empowering organizational culture that achieves results!
Strategy Software vs Project Management
Are you using one over the other, or both? Find out which software type is right for your organization.
Understanding Culture of Execution Framework
Learn the Five Pillars of Strategy Execution and how to implement them within your organization.