Strategy Digitization Assessment
Is Your Organization Ready to Implement a Digital Strategy?
As our world continues to digitally transform, strategic plans—either lost in spreadsheets or sitting in dusty binders on shelves—have been left behind. How can you effectively execute your strategy and actually see results happen when your strategy design is stuck in manual documents?
Our Strategy Digitization Assessment is designed to help organizations take an inward look to prioritize and digitize strategy delivery. Your results will help teams implement and measure goals, discover any digitization barriers, and achieve strategic plans.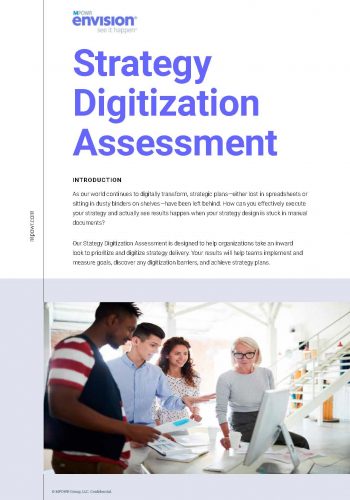 Talk 1-on-1 With a Strategist
Download the assessment then schedule a free 20-minute consultation with an MPOWR Envision consultant. A personalized review of your score will help you walk away with:
Prioritized action items
Increased understanding of your strategy plan
communication tactics to create a culture of execution
Laying Foundation
7 easy questions to find out if your organization is ready to digitize its strategy.
Scoring
A final assessment score that will guide you in your strategy journey.
Free Guidance
Once you have an assessment score schedule 20-minutes with a strategist. The strategist will guide you with key action items to start making an impact on your organization.