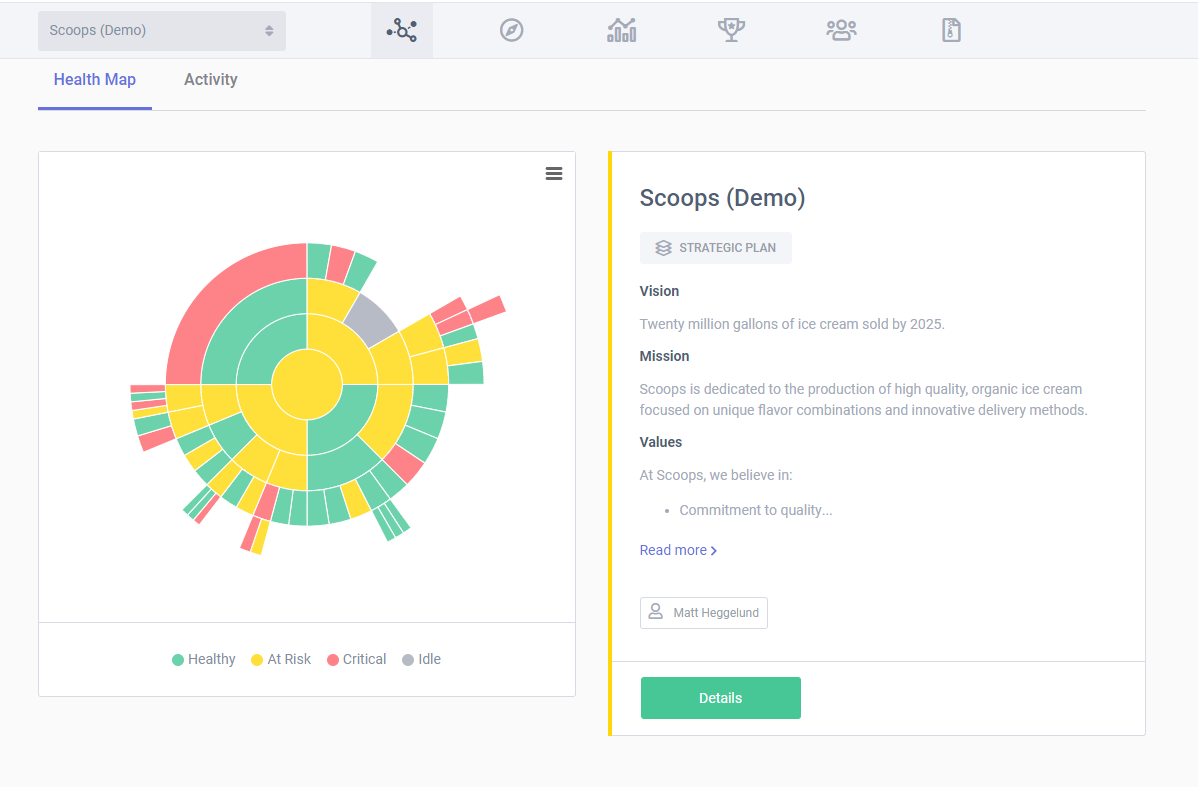 Why We Love the Strategy Health Map
June 8, 2022
Why We Love the Work Center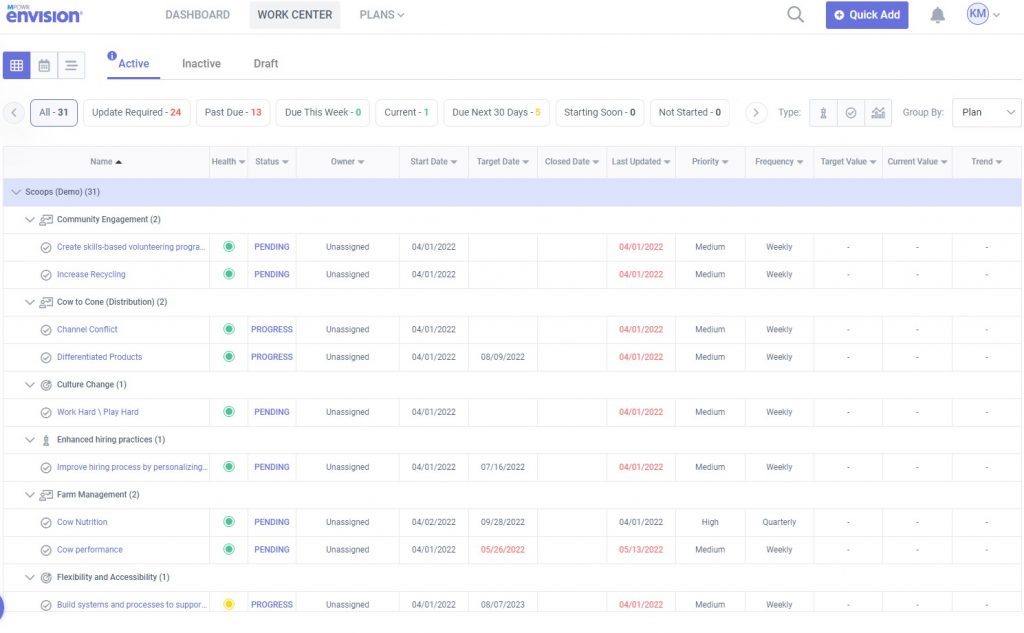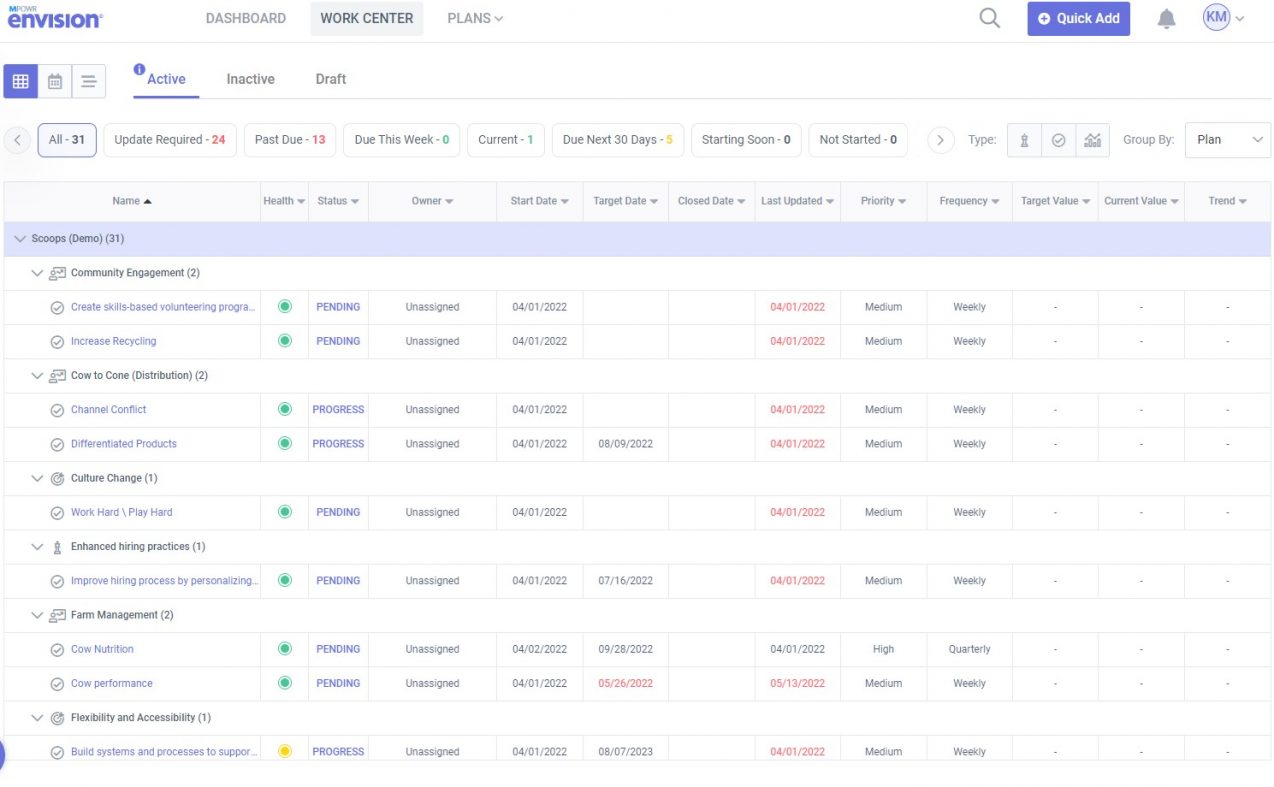 Strategic execution software is more than a place to house your strategic plans. It monitors your tasks, projects, and team collaboration so that your organization can reach its targets. MPOWR Envision is full of useful tools that are designed to support your team's goals. Our strategy health map, for example, gives you a summation of your strategy's progress.  
There's also the work center that serves as the go-to place for your assignments and responsibilities. Understanding how this feature operates will give you a clearer look into what it's really like using the software. Let's dive deeper into why we love the MPOWR Envision work center. 
What Is the Work Center?
The work center is all about efficiency. This section of our software allows you to view and manage your entire workload in one place. By using custom filters, you can easily find the information that you are looking for without taking the time to sift through your entire plan. In short, the work center has everything that you need right at your fingertips.
Why We Love the Work Center
Trying to keep track of numerous teams, action items, and KPIs can be time-consuming. The Work Center helps eliminate the amount of time that you spend juggling these items by putting together all the information that you need. With just the click of a button, you can instantly see who owns each item within your plan.  
The chip filters at the top of the page make it easy to sort by the progress status of your work items. They include the following categories: 
All 

Update Required 

Past Due 

Due This Week 

Current 

Due Next 30 Days 

Starting Soon 

Not Started 

Updated Recently 

By looking at the number to the right of each filter, you can instantly see how much of your work falls under any category. Simply click on a filter to isolate the items that you wish to view.  You can also filter items by their owners. This is especially valuable for managers who need to see the projects of the employees that report to them. You can also choose to view the collaborators of those items.  
What You Can Do in the Work Center
Aside from the default grid view pictured above, you can also change the view to a calendar which allows you to see when items are due in a calendar display. Additionally, you can choose to see your work in the timeline view which will show you all your items and their current health in a chart. 
Have a meeting coming up? The work center is the perfect tool to help you run it. Whether you choose to focus on the progress of teams and individuals or the specific items within your plan, the work center has you covered with its various ways to view information. 
Pro Tip
A single click on any item will bring up the Quick Access panel which allows you to instantly update the item without ever leaving the Work Center.