Mission Statement Template
How to Write a Mission Statement
Your mission statement answers the question, what do you do (and, if it's important to directly state) for whom do you do it. Download the below Mission Statement Template to get started crafting your mission!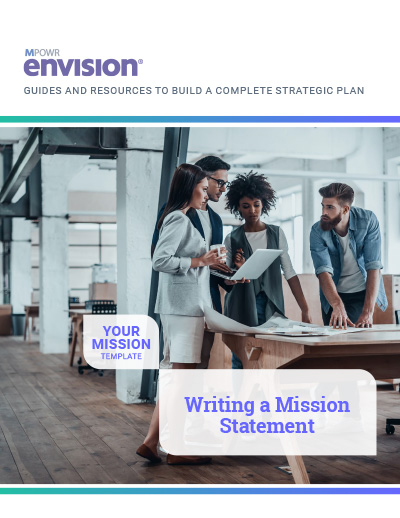 Why do you exist?
Many times it is unnecessary to be specific about the customers you wish to serve but if there is doubt – mission is important to include.
As long as your mission provides clear direction and purpose for all those who work in your organization, it has accomplished its goal.  Attention to mission helps your plan adhere to its primary purpose and serves as a touchstone for decision-making. Download the mission statement template to begin!
Next up: Writing a Vision Statement
Laying Foundation
Mission statements are part of the cornerstone of your strategic plan. Learn why it's important to craft a good one and what it can do for your organization.
Writing Tips
Your mission needs to be impactful and memorable. Get the guide for tips to guide your writing.
Additional Resources
Examples of powerful mission statements and links to other resources to inspire your planning and development.