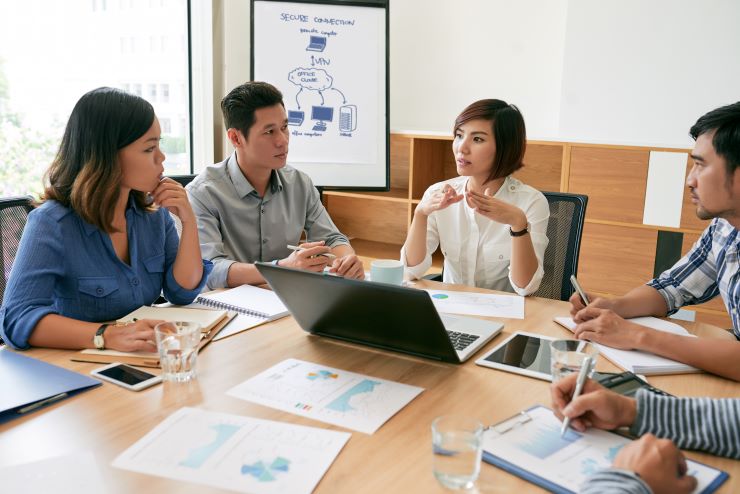 What is an OKR and Why Are They Important?
December 8, 2021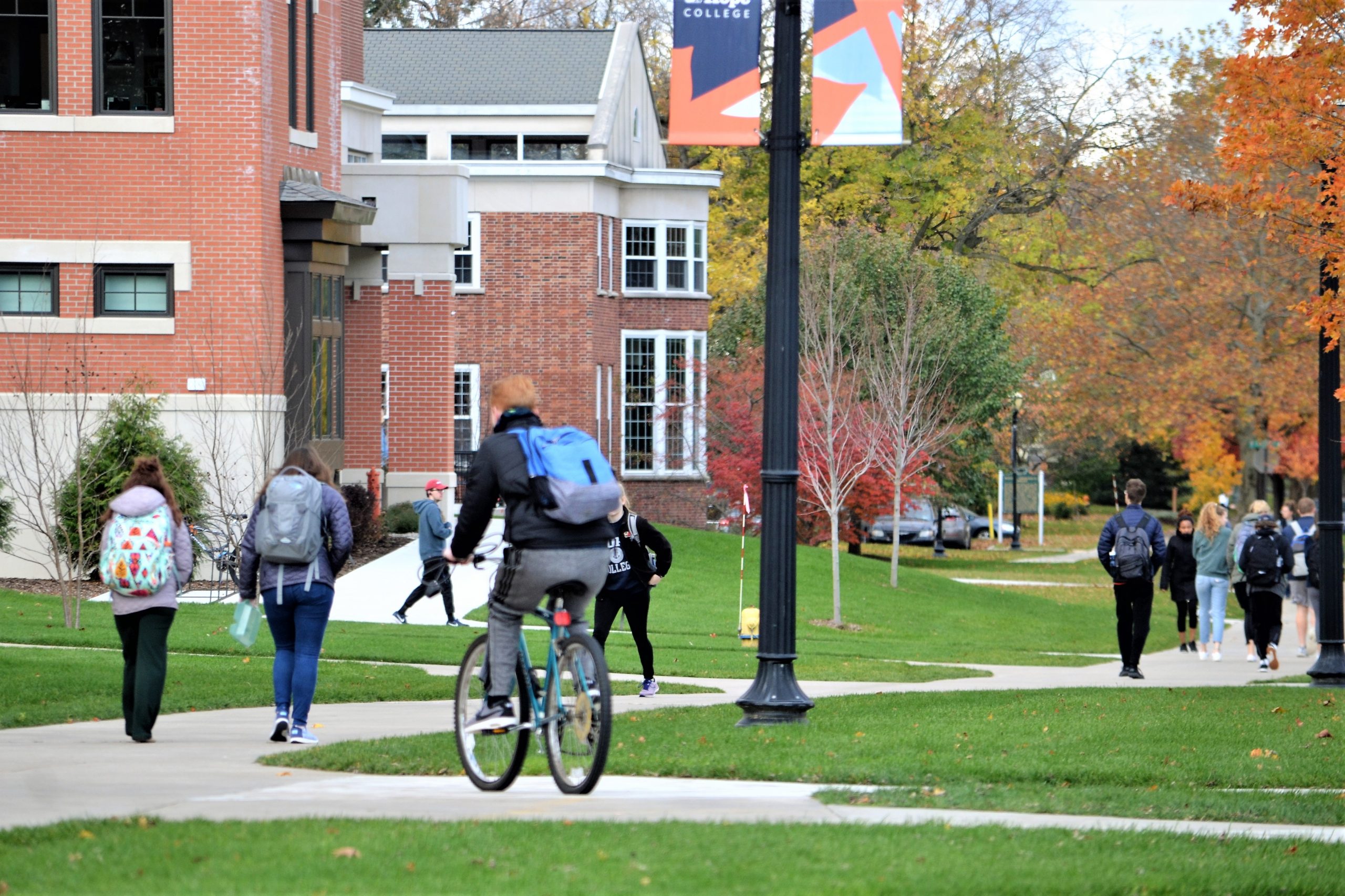 Top 5 Challenges at Higher Ed Institutions That Strategic Planning Solves
April 27, 2022
A Leader's Modern Guide to SWOT Analysis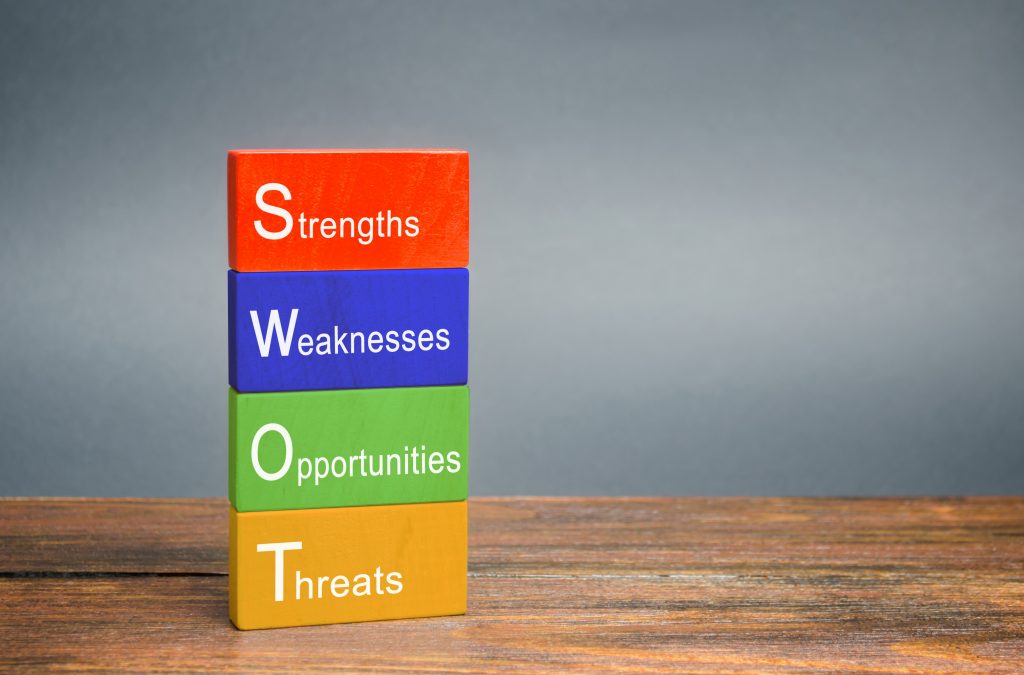 If your company needs strategic direction, SWOT analysis might be the place to start. SWOT analysis is a method that breaks down essential characteristics of a company so that its leaders can create a defined strategic plan. Its acronym stands for strength, weakness, opportunities, and threats. 
This framework is considered a must-have tool by many. Marketing strategy expert, Adnan Moinuddin, points out that SWOT analysis was created, "for strategic direction setting and interdepartmental alignment."  He also credits its success as a business technique to its simplicity and action-based approach. Let's look at how SWOT operates and how your team can use it to propel your company forward. 
S is for Strength
The first step in SWOT is to evaluate where your business has a competitive advantage. Identifying its strengths will highlight what the business does well in terms of customer value propositions. Consider these questions in your analysis. 
What does your organization do well?

 

What attributes separate you from your competitors?

 

What advantages do you have over competitors?

 

What would outsiders say are your strengths?

 
W is for Weakness
Next, your team should examine your company's weaknesses. Understanding these internal characteristics will give you the transparency needed to improve the business. Think about the following: 
Are there any areas that need improvement?

 

In what areas are your competitors doing better than you?

 

What procedures need to be further explained or tightened?

 
What would outsiders say are your weaknesses?

 
O is for Opportunity
After assessing weakness, go over the company's opportunities. Analyzing your organization's opportunity involves looking at external conditions that can improve your competitive position. This includes factors such as trends in the market or economy. You can ask: 
What about your company can put you in the lead in your market?

 
Have there been any shifts in local or market regulations that can improve your brand?

 

What new strategies can you explore?

 
T is for Threat
Lastly, to stay ahead of any external elements that could impact your organization, it's important to identify possible threats. Ask these questions. 
What is negatively affecting your business from the outside?

 

Are your competitors experiencing the same barriers?

 

Are there new consumer trends that may negatively affect your business?

 

What are your competitors doing well?

 
How to Conduct a Thorough SWOT Analysis
Now that you understand what SWOT analysis is, here's more advice from Adnan Moinuddin and Senior Project Manager at TE Connectivity, Vimal Viswanathan.  
Viswanathan breaks SWOT into two main parts: 
→ First form a diversified team. Identify the key stakeholders who can make actions and recommend solutions for decision-making. 
→Then gather data by researching the status of your organization and its market.  
 Internal factors include: 
Human resources — Look at your staff, volunteers, board members.

 

Physical resources — Evaluate your location, building, equipment, tools.

 

Material resources –What is your raw material selection?

 

Financial — How do grants, operational and marketing finances play a role?

 
External factors include: 
Examine future trends in your organization's field.

 

Are there new federal legislations that make your job easier or harder?

 

Are there local, national, or international events that affect your company?

 
Moinuddin suggests the following tips to make SWOT really work for your team. 
Make sure everyone understands how SWOT works. It's important to be on the same page.

 

Have different departments prepare their SWOT analysis. Then consolidate the different analyses. You will begin to see common patterns which you should cluster. 

 

Workshop it! Treat this process as both research and a conversation. This will help drive teams towards a common, externally oriented set of goals.

 
How You Can Use SWOT Analysis to Effectively Lead
Once your team has identified the internal and external factors of the business and placed them into the SWOT framework, you can then develop a set of actions and solutions that will become your strategic plan. The weaknesses and threats that your team identifies will be the source for most of the actions you decide to take to make it resilient against any negative impacts.  
Leaders can use a SWOT analysis to determine where your company currently stands and how to push the organization forward. Developing an organizational strategy this way can guide your team to achieving the goals, vision, and mission of the organization. 
All in all, if your company needs strategic direction and isn't sure where to start, SWOT analysis is a tried-and-true method to dissect every component of your organization so that your team can create a roadmap to future success.   
Has your team already conducted SWOT analysis?  
Take the next step by reading our article, Go From Strategic Planning with SWOT to OSOTU.  
Contributors: 
Vimal Viswanathan 
Adnan Moinuddin