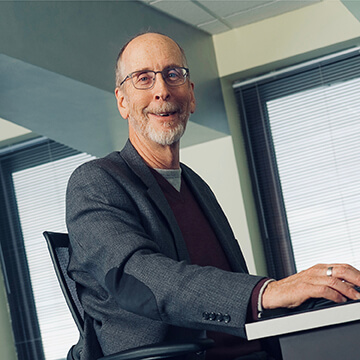 Jeff Fahrenwald
VP of Strategy Realization
---
Jeff Fahrenwald, MBA, is Vice President of Strategy Realization at SupplyCore Inc. and MPOWR. In this role, Jeff is responsible for working with the entire senior leadership team to develop and guide the strategic direction of all of SupplyCore's and MPOWR's interests. He has an MBA from Eastern Illinois University and additional post-graduate coursework from the University of Nebraska.
In addition to having worked as a consultant and full time for SupplyCore since 1992, including VP of Operations from 1999 through 2002, Jeff has a wide range of upper level leadership experiences that make him a solid executive advisor to C-suite level teams. Before taking his current role at SupplyCore, Jeff was an Assistant Professor of Business and the MBA Director at Rockford University. In this role, he was also responsible for RU's Executive Development Training, the Graduate Assistant program, and oversaw marketing and outreach for the MBA Program. Jeff taught classes at both the undergraduate and graduate level on both strategic planning and leadership.
Jeff has extensive experience working with for-profit and not-for-profit businesses as well as manufacturing, distribution and service organizations in facilitating strategy planning. He has held leadership board positions at a variety of different community development organizations, including Rockford Local Development Corp and Transform Rockford. In 2014, the Rockford Area Chamber of Commerce recognized Jeff, for his many contributions to his local community, as the 2014 Citizen of the Year.
Midwestern cred: A lifelong Cubs fan, Jeff is smart enough to get his wine from California.
Jeff's MPOWR superlative:
Most likely to be voted "Best Grandpa of the Year"