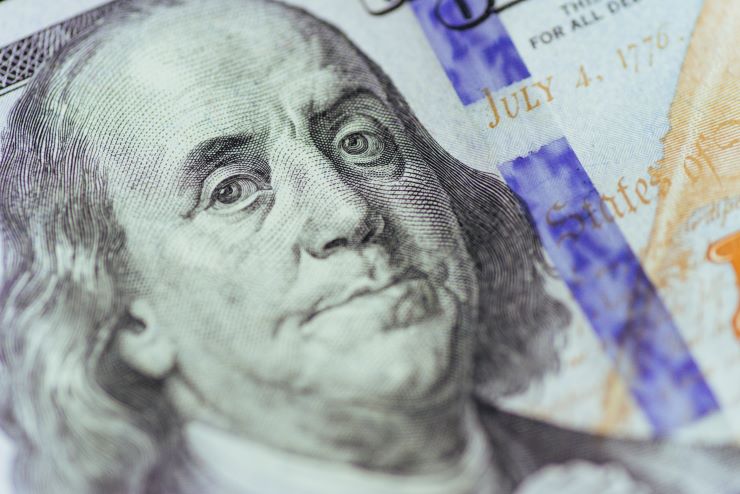 5 Things Benjamin Franklin Taught Us About Effective and Strategic Change Management
November 22, 2021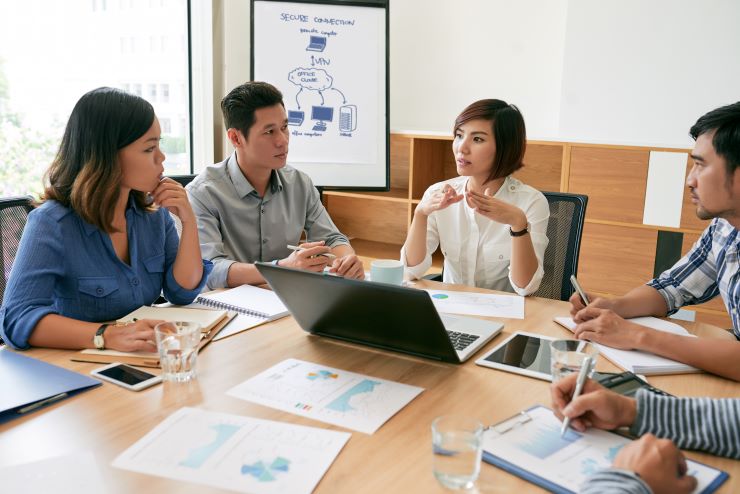 What is an OKR and Why Are They Important?
December 8, 2021
Visioning: The Art of Creating a Solid Vision Statement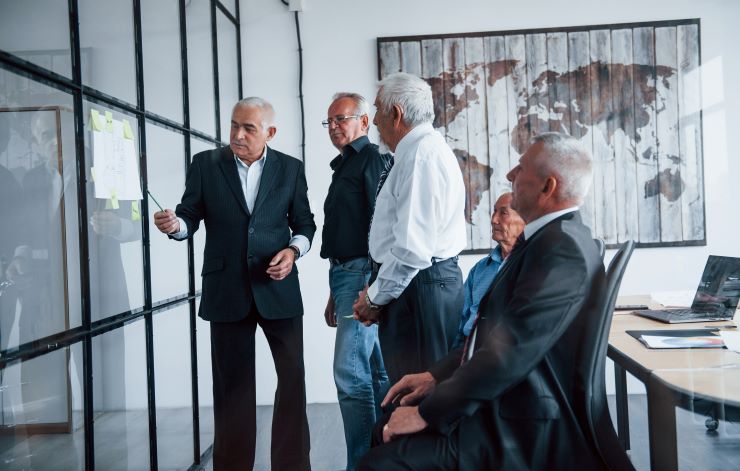 What Is Visioning and How Has It Evolved?
Visioning is a concept is as old as our earliest writings.  
Some of the earliest examples of written history, both religious and philosophical texts, speak of visioning – the ability to see the future. In those ancient times, if one didn't possess visioning skills, they consulted with people who had them. So important was it for people to want to know what was coming next they conferred special status to those who could predict the next major human event. Visioning was both valuable and passive. That is, visionaries were "future seers" but not "future creators."   
Over time, humans developed a more pro-active relationship with visioning, and the experience morphed from future seers into future creators, or those who wished to shape the future. Modern history brought us philosophers, writers, scientists, artists, inventors, and leaders who aimed to create a future according to their idea of what it should look like.  
Our ancient desire to want to see into the future, and later to shape our future, seems everlasting, almost as if it is hardwired into our DNA. So, it's no surprise that visioning eventually made it into the world of commerce.  
Given these two types of futurists, should business handle visioning like the ancients and be prophets and forecasters? Or should they seek to shape the future in the modern context as so many have done throughout the 21st century and be future creators?
Which approach is best? 
The answer is: both are.  
Without having the ability to see the future from the perspective of what 

will happen as a result of the collective action of others

– like those who made predictions – you can't understand the context of your vision. But, without being able to have a hand in 

forming the future with your desires and wishes and create what the future could look like

, you are captive to circumstance. 
If you vision a world without disease but don't have the will or the capability to chart the path, you are as helpless as those who have the knowledge but don't see where that knowledge will lead them. 
So let's look at both aspects of visioning. How do we predict and how do we produce? 
Predictive Visioning
Predictions are usually based on past knowledge and experience. Some people are better at it than others. The irony is, to be good at predicting, you have to have past knowledge and experience and then be able to let that knowledge and experience go to a new place. You must look at it and then ignore it. That's hard. 
Here are a few examples of things that were considered common knowledge that one person or persons challenged: 
The sun revolves around the earth.

 

Wealthy people can purchase cars, all others need horses for transportation.

 

If you want to communicate with people, you have to speak to them in person. 

 

A mobile phone is a wireless device used for transmitting speech and small written messages.

 

Rockets into space must self-destruct when they hit the earth's atmosphere. Re-entry is way too damaging to any craft for it to be able to survive and fly again.

 
Make sense? Copernicus and Galilei, Henry Ford, Alexander Graham Bell, Steve Jobs, and Elon Musk respectively didn't think so. Instead, they believed once you became an expert in a field, it was your duty to challenge and improve that knowledge.
If you wish to follow in their footsteps, ask yourself what the future would look like if your challenge to established truth became real. Often, the first challenger is followed by another challenger who takes up the mantle and moves the vision back into the realm of possibility or farther down the road. Others manage to bring their vision to reality themselves. Some of the initial success can depend on how entrenched the status quo is and what exactly is threatened by the new thinking. 
And, a fair amount of visioning is just not that exciting. 
Yep, that's true.  
Not everyone takes on the powerful Roman church, the telecommunications industry, or national space programs. Sometimes it's enough to just think about where your small to medium size business could go in the next three years. And there's nothing wrong with being on the 'normal' side of visioning. In fact, that's where 99% of the world lives.  
But there's also some value in keeping the idea that people have moved some pretty big mountains, figuratively, and that in the context of your desire to be successful, you shouldn't take anything off the table. As a matter of fact, often people don't predict aggressively enough.  
But for the moment, let's say you're not one of those people. Let's say you have challenged yourself and you've come up with an idea. It's on the outside of possible, but not crazy. It's new and uncomfortable but it feels like if you put the right resources behind it, it just might work! 
Productive Visioning
Great…now we have this idea but we have absolutely NO IDEA how to get there. Yikes!!! Now what?!   
Wait.  
Stop.  
If you think like that, you're probably right. But what if you stopped yourself from aggressively laying reality over the situation and asked your team/leadership/self, BUT what if we/I wanted to try?
What assumptions have to be changed to make your vision a reality? Can we get through our assumptions and see our future differently?   
This allows you to suspend doubt and work toward a state of mind that actually assumes that something you thought was impossible is possible.
This is the first step into productive visioning. It's letting go of the sides of the pool – your excuses – and trying to swim in the deep end.  
Then it's time to be practical.  
So now what? 
Let's take a lesson from one of the examples we mentioned. Let's use the example of Alexander Graham Bell.  
Driven by a desire to help the hearing impaired because of his mother's and wife's deafness, he worked his whole life to develop technologies that carried, recorded, or reproduced messages, sound, and the human voice.  

At the time, his vision seemed impossible – communication paths created by carrying sound through wire? And not just noise but the actual reproduction of a human voice?  

Bell, like the examples of Galileo reinforcing the concepts from Copernicus, built on the knowledge he acquired in the related field of telegraphy. While Bell (along with Edison) was working on the improving the number of telegraphs that could be sent over one line, he was also trying to send a human voice through wire. He had a rival, Elisha Gray, who filed a patent for the technology pretty much at the same time. It very well might have been Gray Telephone and Telegraph!   
As is true about many visions that come to life, the path is rarely straight. The most helpful place to begin is to ask questions and pursue the answers with the best possible tools you have at your disposal. 
In order to move in the direction of your vision, start by answering the following: 
Where does it make the most sense to start?

 

What tools do we need now or in the future?

 

Who do we need to help us and what skills do they need to have?

 

How long do we think it will take?  Are we under a time restriction?

 

What are our obstacles?  Do we know how to overcome them?

 

Are there stages to our vision or can we accomplish it all in one effort?

 

Do we have the funding/resources?  If not, where and how can we get them?

 

Do we have any competition from any area?  How will this affect us?

 

What pre-conceived notions will we need to change to make our vision a reality?

 
The most important part of visioning is to continually be curious. Never accept "we tried that" as an answer to a question. If you get that answer, then follow it up with, "Why didn't it work and what might we modify to make it work?"   
Employ a childlike level of questioning when you begin to create a path to your future. This is difficult because most of us have left our childhoods long ago. We've forgotten how to be curious. We've forgotten how to be innocently open to new ideas or old ideas seen from a different perspective. What if we look STUPID to someone else by asking a question someone else will think is dumb? 
The response to that is two words: SO WHAT!  
Do it anyway. 
The paths that such questioning might force you to follow may very well lead to something that is truly new and worth the discomfort of a few strange questions. 
Run-Of-The-Mill Visioning
Run-of-the-mill visioning is an exercise that you've been through 999 times before and the 1000th time it turns out the same except you change a number or a timeline. These visions sound something like this: 
Increase gross margin by 25% and be the leader in …

 
Improve market penetration by 50% with superior customer service through…

 

Improve on-time delivery to 95% in order to…

 
It's not that these aren't solid goals to achieve, but they're not very visionary. They take a set of parameters and make incremental changes that hopefully put the business in a better spot because they improve a critical business function on some level. The problem is that they don't require the business to see itself in a fundamentally different way. So, it's not really visioning; it's more like projecting.  
We will project that we will reach this number in the same manner that we reached the number from last year. This year's number will be a 20% increase from the vision from the last time we set our vision. 
Real visioning – or visioning that sets you up for completely different results – has you ask yourself how you plan to change your future, not just your numbers. You will need to move past numbers when breaking your traditional visioning mold and planning habits. This kind of visioning is for businesses that want to get ahead of market forces, competition, and growth.
In addition to asking the right questions (see list above), this visioning asks the organization to make shifts in how it does business. It asks the organization to examine what could be that isn't now. 
That's some pretty scary stuff, and because of that, most businesses won't do it. What if you're wrong? What if you don't have enough resources? What if you go off in a particular direction and the market punishes you for it? All these negative things could happen. As a matter of fact, they have a good chance of happening.  
So you need to ask yourself, "Are we in a situation where we fundamentally need to shift what/how/to whom we sell, or are we in a more operational situation where we just need to get better at something we already do?"   
There's nothing wrong with setting these kinds of goals. Just know that it's not future changing. It's not culture changing. It will require some tweaks and adjustments. It will require you understand what you can change in the current environment. However, it will not require a complete shift.  
Visioning – How Is it Different From Purpose?
Some organizations use visioning to establish their purpose, or the reason they exist. Their vision gives a snapshot of how it will be when they fully engage in their purpose. While there is room for a little purpose in vision and little vision in purpose, the two are different.
Purpose is, for all intents, an organization's mission. It is a statement of what you do and why you do it. Vision is when you visualize what the end state looks like when you achieve your purpose.
The following are examples of vision statements from some of the most well-known companies today. See if you can determine which are just purpose (mission) or vision and which do a little combining of purpose (mission) and vision.  
"To live and deliver WOW!"  – Zappos 

 

"To organize the world's information and make it universally accessible and useful" – Google 

 

"To empower every person and organization on the planet to achieve more." – Microsoft 

 

"To become the world's most trusted company." 

 

"To drive human progress through freedom of movement."  – Ford  

 

"To accelerate the world's transition to sustainable energy." – Tesla 

 

"SpaceX designs, manufactures and launches advanced rockets and spacecraft…to revolutionize space technology, with the ultimate goal of enabling people to live on other planets." – SpaceX 

 

"Real food that matters for life's moments." – Campbell's Soup 

 

"We will provide branded products and services of superior quality and value that improve the lives of the world's consumers, now and for generations to come. As a result, consumers will reward us with leadership sales, profit and value creation, allowing our people, our shareholders and the communities in which we live and work to prosper." – Proctor and Gamble 

 
A Few Observations
In some cases, the purpose and the vision are wrapped up in each other. In other cases, they are very distinct and there is no vision in the purpose. It is interesting to note that the oldest company in this list has the longest purpose statement. It somewhat dilutes the power of the statement. 
Among the newer tech companies, the purpose is large and in charge. "To organize the world's information.." "Every person and every organization on the planet…" "To accelerate the world's transition…"   
WOW! That's quite the served market. Because these businesses can more easily scale, it's not unrealistic to talk about 'the world' as your potential customer base. It also serves as a huge motivator to be a part of a vision that will affect the 'world'. But most businesses are unable to globally serve, so they have to be satisfied with serving their customers.   
And while it's very important that a vision be compelling to those who are working towards it, it need not be grandiose to be effective. What it does have to be is something everyone understands and can get behind. If those who are trying to achieve it are unable to understand, mobilize and move toward the vision, it isn't a compelling one.  
There are three important characteristics of an effective vision statement: 
Be clear – Avoid jargon, use regular speaking language

 

Be compelling – Make the goal exciting, motivating and achievable if stretched

 

Be succinct – Length on any overarching statement made to a group is deadly

 
Reflect if your organization is following the above rules or if yours needs refreshing.
Final Notes
A vision can also be a purpose.
A vision can be ordinary or grandiose.
A vision can be predictive.
A vision can be productive.
A vision is directly tied to your organization and its culture. If you develop a vision that is wildly outside of your culture, you will fail to communicate and motivate. Make sure your vision matches your culture and plays to your strengths as an organization. 
If you craft a vision statement that demands you be something you're not, you better understand and see what the clear path is to get there and how to lead your team to believe in the future. Otherwise, your vision will do the opposite of motivating people. 
And ultimately you want everyone to be able to see themselves in the vision, how they will contribute, and the way to propel your organization into a successful future.